Marriage
AIKEN--ELLIOTT -- December 21, at Newtownbreda Presbyterian Church, Belfast, by the Rev. Arthur Rose, M.A., D.D., Sergeant John Aiken. R.I.R., only son of T. and M. Aiken, Garmoyle Terrace, Belfast, to Margaret Abigail (Meta.), only daughter of Wm. C. and S. Elliott, Corranewey, Newbliss.
Deaths
WILSON -- December 29, 1916, at his residence, Bleary, Co. Down, William Wilson, aged 95 years. Interred in Newmills Burying-ground on the 30th December.
ATKINSON -- December 28, at his residence, Annahmoy, Blackwatertown, Co. Armagh, William, son of the late Henry Atkinson, Esq.
BIRKMYRE -- December 7, at Winnipeg, James, eldest son of James Birkmyre, late "Drum House," Glengormley.
COLVILLE -- December 27, at 43, Marquis Street, Newtownards, Samuel Colville.
DOUGALL -- January 1, Letitia, second daughter of the late Hudson Dougall and Mrs. Dougall, Railway Street-, Antrim.
FORBES -- December 30, at 18, Edward Street, Portadown, Helen Clare, only daughter of George R. and M. M. Forbes, aged 16½ years.
GARDNER -- December 28, at his nephew's residence, Lower Maze, Lisburn, Arthur Gardner.
GRAHAM -- December 27, at her father's residence, Carmavey, Sarah Graham, aged 12 years.
KAIN -- January 1, Mary Jane, daughter of the late John Kain, Lisburn.
KENNEDY -- December 30, at his residence, 77, Sloan Street, Lisburn, Andrew Kennedy.
LAPPIN -- December 31, at her son-in-law's residence, 4, Unity Street, Carrickfergus, Margaret, the beloved wife of the late Andrew Lappin.
LIVINGSTON -- January 1, at her residence, High Street, Lurgan, Margaret, wife of Hamilton Livingston.
LOVE -- December, 28, Annie, the beloved wife of Company-Sergeant-Major Joseph Love, Shore Street, Killyleigh.
MACARTNEY -- January 1, William, fourth son of Mr. William Macartney, Killuney, Armagh.
MALCOLM -- December 30, at her residence, Oughley, Saintfield, Rachel Malcolm.
MONTEITH -- December 20, at Trooper's Lane, Carrickfergus, Robert Monteith.
MONTGOMERY -- December 28, at her parents' residence, 2, Havelock Place, Camlough, Eileen Rosetta (Neenie), the dearly-beloved daughter of James and Jessie Montgomery, aged 17 years.
M'CULLY -- December 29, at Broomfield Manse, Castleblayney, Rev. James M'Cully, B.A., aged 85 years.
M'DOWELL -- January 2, at his residence, Carrickmaddyroe House, Boardmills, William M'Dowell.
M'LEAN -- December 31, at his residence, Draperstown, Co. Derry (after a brief illness), John M'Lean, late C.P.S.
M'PHERSON -- December 28, at Killeary, Killead, Joseph M'Pherson, aged 87 years.
NESBITT -- December 28, at her residence, Cargycroy, Sarah, widow of the late John Nesbitt.
ORR -- October 4, at Ashburton, New Zealand, Willie, second son of the late Rev. James Orr, Newmills, Gilford, Co. Down.
REID -- December 31, at his residence, Scotch Street, Dungannon, Samuel J. Reid.
RENNIE -- December 31, at his residence, Connaught Club, London, William J., third son late Robert Rennie, Ballymacarn, Ballynahinch.
RENTOUL -- January 2, 1917, at The Manse, Dromore, County Down, Rev. James Rentoul, of Banbridge Road Presbyterian Church.
SMITH -- December 30, at the residence of her son, Killylea, Armagh, Maria, widow of the late Isaac Smith, Esq., The Clump, Moneymore, Co. Derry.
THOMSON -- December 30, at Scarvagh House, Scarva, Henry Thomson, D.L.
TODD -- December 30, at the residence of her niece, Mrs. Hill, Seaforde, Glengormley, Eliza, relict of the late James Todd, Camtall.
WHITE -- December 30 (suddenly, of pneumonia), at his residence, 21, Sefton Avenue, Heaton, Newcastle-on-Tyne, Wilfred Edwin, aged 36 years, third son of the late James White, Muckamore, Co. Antrim, and Mrs. White, Rotherfield, Sussex.
WILSON -- December 29, at her residence, Blackstown, Ballynashee, Agnes, relict of the late Robert Wilson.
In Memoriam
SHERRARD -- In affectionate remembrance of our dear little daughter, Nellie, who passed peacefully away on January 1, 1916. Sadly Missed. S. M. and L. J. SHERRARD. 41, Hallville Road, Liverpool.
Clippings
EPITOME OF GENERAL NEWS
The Right Honourable T. C. Casgrain, Postmaster-General of Canada, has died at Ottawa, aged sixty-four.
Mr. Christopher Johnston, Unionist, has been returned unopposed for St. Andrews and Edinburgh Universities.
The Irish railwaymen's war bonus of 7s has been extended to include stationmasters and clerks.
The steamer Alondra, of Liverpool, has been wrecked in the vicinity of Baltimore, County Cork, with the loss or thirteen lives.
Mr. Gordon Hewart, Solicitor-General, was received by the King, when his Majesty conferred upon him the honour of knighthood.
Rev. Dr. Lowe conducted special services in Lower Abbey Street United Free Church, Dublin, on Sabbath last. Special collections were taken, in aid of the congregational funds.
The total revenue of the United Kingdom from 1st April to 31st December shows a net increase of £125,883,337 compared with the corresponding period of the previous year.
Field-Marshal Sir Douglas Haig, in a message to Mr. Ben Tillet says that "if the men and women workers at home and the troops in the trenches, pull together the triumph of our cause is certain."
The Lord Lieutenant has appointed Mr. Robert Glover Cook Flower to be an Assistant Inspector-General of the Royal Irish Constabulary, in the room of Mr. William Moorhouse Davies, promoted.
Mr. Harry Lauder, the celebrated Scottish comedian, has received intelligence that his son, Captain John Lauder, of the Argyll and Sutherland Highlanders, was killed in action on December 28th.
An express from Edinburgh to Glasgow dashed into a light engine at Ratho. The first coach was telescoped and eleven persons in it were killed, while forty-three persons were injured. Among the injured is a man from Co. Mayo.
Mr. William Mitchell-Thomson, M.P. for North Down, has been appointed Director of the Restriction of Enemy Supplies Department, in place of Commander Feverton Harris, M.P., now Parliamentary Secretary to the Ministry of Blockade.
The congregation of Castlerock, vacant through the translation of the Rev. J. B. Woodburn, M.A., to First Holywood congregation, has addressed a unanimous call to the Rev. W. J. Farley, B.A., minister of Second Kilrea congregation.
Belfast City Council have elected Councillor W. J. L. Wheeler to a vacant Aldermanship of Windsor Ward, and Mr. W. J. Stokes to the vacant Councillorship, and co-opted Mr. H. Murphy to a Councillorship of Shankill Ward, in room of the late Councillor J. Longmore.
The Secretary of the Admiralty has issued a statement condemning German savagery as exemplified in the sinking of the British steamer Westminster. After the vessel had been torpedoed, four men being killed, the survivors were shelled while escaping in open boats, and seven more lives were lost.
It is now ascertained that the British Mission in Roumania destroyed oil property to the value of £30,000,000. The wells are useless to the Germans or anyone else, and the amount of oil captured was less than was purchased from Roumania in any previous three months of the war.
The death has occurred of Mr. T. Fenwick Harrison, a wealthy Liverpool shipowner, who purchased by auction for £6,000 Lord Kitchener's historic recruiting letter, and exhibited it throughout the country for the Red Cross Funds, and who gave £50,000 to the Kitchener Memorial.
Rev. J. L. Scott, B.A., has been inducted minister of Goodmayers congregation, in the Presbytery of London North. Mr. Scott, who is a son of the late Rev. J. L. Scott, of Upper Clonanees, and was a licentiate of the Dungannon Presbytery, was formerly minister at Germiston, South Africa.
In view of the urgent necessity of an increase in the production of home-grown foodstuffs, Miss Orr Owens, of Holestone House, Ballyclare, County Antrim, has let her deer park, containing about fifty acres, for agricultural purposes. Most of the splendid head of deer have been disposed of.
The death has taken place of Mr. James Byrne, Wallstown Castle, for over a quarter of a century Coroner of the North Cork district. Deceased was well known throughout the country as a breeder of shorthorn stock, and for over fifty years occupied a leading position in the agricultural affairs of Co. Cork.
Mr. R. Dawson Rates has received £200 by cablegram for the Ulster Volunteer Force Military Hospital, Belfast, from the Ulster Society of Philadelphia, of which Sir Edward Carson is a member. The donation is sent "In memory of John M'Ilhenny, an Ulsterman, and in admiration of the splendid spirit of Ulster."
Private Joseph M'Conaghie, Highland Light Infantry, who was wounded in the chest, arm, and foot at the battle of Loos and taken prisoner by the Germans, has been repatriated and has arrived home. His foot was operated on in Germany, and has since been amputated. He is a son of Mr. Daniel M'Conaghie, of Church Street, Ballymoney.
Rev. B. Vaughan, S.J., received on New Year's Day an autograph letter from the Pope on the occasion of his golden jubilee, granting him the special privilege of the use of a portable altar, enabling him to say mass where he happens to be without the necessity of going to a church. The Father General has also granted him special personal favours.
According to a return relating to Post Office Savings Banks for the year ended December 31, 1915, the balance of deposits in the bank amounted to the sum of £249,331,508. Of this sum £54,328,429 was received in cash from depositors from January 1 to December 31, 1915. The balance due at the close of the year 1915 to all depositors, inclusive of interest, was £186,327,584.
In pursuance of the Irish Police Bill which recently became law, the members of the R.I.C. and the Dublin Metropolitan Police have now duly received arrears based upon the new scale of pay as from the end of the last financial year -- viz. March last, and will continue to be paid at the new rate for the future. This works out at the rate of 13s per month per man of the rank and file.
Regarded as the oldest person in Ireland, there has died at her residence, Castlerea, Roscommon, Mrs. Mary Morris, aged 108 years. She had been scarcely ill during her long career, and was able to be about up to some weeks before her death. She had a distinct recollection of all the land campaigns in the West of Ireland for the past eighty years. She leaves a large number of descendants, many holding prominent positions in the United States.
A remarkable expansion, as regards deposits, note issues, investments and cash on hands, is exhibited in the summarised balance-sheet of the Belfast Banking Co., Northern Banking Co., and the Ulster Bank to August 31, 1916. The capital reserves, and the corresponding assets, are £35,455,044. The deposit and credit accounts are £26,522,774, which is an increase of £2,605,129. The investments similarly are up by £2,288,087, and the cash on hands by £2,947,222.
Major (temporary Lieutenant-Colonel) Mortimer J. Cromie, R.A.M.C., has been awarded the Order of the White Eagle by his Majesty the King of Serbia for distinguished service in that country. Major Cromie belongs to a well-known County Down family, being a grandson of the late Dr. Robert Cromie, of Clough, and a son of Mr. Henry Cromie, of the War Office. He is a nephew of Mr. Gilbert Cromie, manager of the Ulster Bank, Carlisle Circus, Belfast, and of Dr. Thomas Cromie, of Clough.
=========================
NEW ULSTER SHERIFFS.
The Lord Lieutenant has been pleased to appoint the undermentioned gentlemen to the office of High Sheriff of the following counties:--
Antrim -- John J. Kirkpatrick, Kincraig, Belfast.
Armagh -- Francis H. Maclean, Camagh, Marlborough Park, Belfast.
Cavan -- Joseph Arthur Benison, Slieve Russell, Ballyconnell.
Donegal -- James Clarke, Port Hall, Clonleigh.
Down -- Frank Workman, The Moat, Strandtown.
Fermanagh -- Rowland John Beatty, Lissenderry, Aughnacloy, County Tyrone.
Londonderry County -- Thomas Fitzpatrick Cook, D.L., Caw House, Londonderry.
Longford -- Ed. Anthony Minchin, Doory Hall, Ballymahon.
Louth -- Thomas Callan Macardle, D.L., St. Margaret's, Dundalk.
Monaghan -- James Campbell Hall, Rowntree House, Monaghan.
Tyrone -- Major Charles Moorhead Hamilton, Lakemount, Dromore.
=========================
DEATH OF MR. J. F. SHEAN, J.P.
Deep regret is felt in Comber and district at the death, which took place on Saturday, of Mr. James F. Shean, a well-known county magistrate and a life-long resident of the town of which he was a native. The late Mr. Shean, who was a septuagenarian, was one of the most prominent residents of Comber. He was a gentleman of a quiet and unassuming character, who enjoyed in the highest degree the respect of the community amongst whom he lived, and whose interests it was his pleasure to promote. He was a staunch Unionist, and was a member of the Masonic Order. As a Presbyterian, he was a member of Rev. Henry M'Connell's Church (Second Comber), and was a committeeman of the congregation. He took an active part in raising the funds for the erection of the Town Hall (Andrews Memorial), of which he was one of the trustees. The late gentleman, who was unmarried, was a brother of the late Mr. J. Wm. Shean, of Messrs. Shean & Dickson, solicitors, and was the last surviving member of a much-respected family.
=========================
DEATH OF REV. JAS. M'CULLY.
We regret to announce the death of the Rev. James M'Cully, Presbyterian minister of Broomfield, Castleblayney, which occurred on the 29th ult. The deceased, who had reached the advanced age of eighty-five, was born in the neighbourhood or Broughshane, County Antrim, and after the usual course at a primary school he entered the Queen's College, Belfast, with a view to the Christian ministry. He was a singularly able student, holding each year of his undergraduate course a Science Scholarship, and when he graduated in 1855 he gained the Senior Scholarship in Natural Philosophy in the Queen's University. He studied theology in the Assembly's College, where he was successful in securing additional honours On the completion of his theological studies he received license from the Presbytery of Belfast, and for some time after that he was engaged in teaching. In 1862 he received a call from Broomfield congregation, in the Ballybay Presbytery, and on the 24th August of that year he was ordained to the pastoral oversight of that congregation. For almost half a century the deceased discharged the duties associated with his sacred office with great zeal and efficiency. He was most assiduous in his visitation of the sick and dying, whilst his pulpit ministrations evinced the most careful study and diligent preparation. Owing to failing health he sought and obtained leave from the General Assembly to retire from the active duties of the ministry, and on 11th October, 1910, the Rev. James Hamilton was installed as his assistant and successor. Mr. M'Cully was very highly esteemed by his brethren in the Presbytery to which he belonged, and of which he was Clerk for over thirty years. He was Moderator of the Synod of Armagh and Monaghan in 1884. The deceased is survived by three sons and one daughter, two of the former being in the Army and the third in the Ulster Bank, Monaghan. For the sorrowing family there will be widespread sympathy in the hour of their bereavement.
THE FUNERAL.
The funeral took place on Monday, amid every manifestation of regret, to the burial-ground at Broomfield Church. At the house a short service was conducted by the Rev. John Davidson, M.A., D.D., ex-Moderator of the General Assembly; and the Rev. Henry Clarke, B.A., Rockcorry. In the church the Rev. James Hamilton and the Rev. Hugh Jamison, B.A., Second Ballybay, officiated. Mr. Hamilton, referring to the late Mr. M'Cully, said they all knew the uprightness, the straightforwardness, the honesty of the life he lived. He always endeavoured, so far as in him lay, to live out the doctrines he preached. He wore the flower of a blameless life. A more blameless, a more humble, and a more honest man, he thought, never walked upon this earth. He did his work faithfully. He was a generous contributor to the funds of that church, he gave liberally and he gave whole-heartedly, and his object throughout his life was to encourage others to follow his example in that respect. The last portion of the service at the graveside was conducted by the Rev. Hugh Jamison and the Rev. H. A. MacKenzie, B.A., First Ballybay. The chief mourners were Mr. James M'Cully, Monaghan (son), and Mr. Robert Spence, Castleblayney (son-in-law).
=========================
THE LATE MR. J. M'LEAN, DRAPERSTOWN.
The funeral took place on Wednesday at the family burying-ground attached to the Presbyterian Church, of the late Mr. John M'Lean, of Draperstown. A native of Ballymena, the deceased was for a time a head-constable of the Royal Irish Constabulary, and was stationed at Magherafelt. Twenty-eight years ago he was appointed to the office of Clerk of Petty Sessions at Draperstown, a position he filled with conspicuous success up to the time of his death. He was for many years treasurer of Draperstown Presbyterian Church, and was a teacher in the Sabbath-schooL A man of sterling character, upright, and kind-hearted, he was held in the highest esteem by all classes in the district in which he lived. His wife pre-deceased him by some four years, and he is survived by two sons and three daughters. The funeral was very largely attended, the principal mourners being Mr. James M'Lean and Mr. Wallace M'Lean, Ballymena, brothers; Mr. James M'Lean and Mr. John M'Lean, Ballymena, nephews; Mr. Samuel Wallace, sen., and Mr. Samuel Wallace, jun., Ballymena. An impressive service was conducted in the deceased's late residence by the Rev. C. C. M. Dickey, B.A., who also officiated at the graveside.
=========================
DEATH OF REV. JAMES RENTOUL, DROMORE.
It is with feelings of sincere regret that we announce the death of the Rev. James Rentoul, minister of Banbridge Road Presbyterian Church, Dromore, the sad event taking place at the manse on Tuesday. The deceased, who was seventy-six years of age, had for some time been in very poor health, and quite recently was obliged to resign active duties, and at a special meeting of the Dromore Presbytery held on the 12th December last his resignation was regretfully accepted, and a committee was appointed to take charge of the congregation of Banbridge Road Church, Dromore, in which he laboured for thirty-seven years. He was a member of one of the most distinguished families in Ulster, and belonged to a long ministerial a race. His great-grandfather, grandfather, and his father were all ministers of the Church, so that the deceased may be described as a true son of the manse. His brother, the late Rev. John Lawrence Rentoul, was for many years pastor of Lisburn Church, and at his decease was in charge of a congregation in Scotland. Rev. James Rentoul was born in Ballymoney, where his father was for many years a highly-esteemed minister. He early decided to devote his life to the Christian ministry, and, with this object in view, he pursued his studies in Queen's College, Belfast, and afterwards in the Assembly's College. He was licensed by the Presbytery of Route on 10th May, 1864, and a short time afterwards received a unanimous call from the congregation of Clough, County Antrim, and was ordained there on 10th March, 1865. Here he laboured successfully for thirteen years, giving himself with great diligence to the discharge of his duties, both in the pulpit and in his pastoral visitation. In 1878 he received a call to Dromore, and was installed there on 31st May of that year. He celebrated his ministerial jubilee last year, and on that occasion was made the recipient of a presentation and address from the members of his congregation, in which the Presbytery of Dromore also joined. At the Assembly in June last he sought and obtained leave to retire from the active duties of the ministry. The deceased was a very popular platform lecturer, and his services were called for in many quarters of the Church, his lectures always attracting large audiences. He did a fine work for the Irish Temperance League for a number of years. The deceased was twice married, his first wife, a Miss Robinson, of Ballymoney, having died in Clough. His second wife, a Miss Turner, of Belfast, survives him. One of his sons is the Rev. Steele H. Rentoul, now minister of Calton United Free Church, Greenock, while another son is Captain John Lawrence Rentoul, M.B., J.P., of Lisburn, who is now serving in the Royal Army Medical Corps. Captain Rentoul was acting as specialist in bacteriology on the hospital ship Britannic when she was torpedoed and sunk off the Greek coast recently. The death of the Rev. Mr. Rentoul will affect a great many homes in the North of Ireland with which he was directly or indirectly connected, and with Mrs. Rentoul and the members of the family there will be widespread sympathy in their bereavement. The funeral took place yesterday, and was very largely attended. The remains were interred in the burying-ground attached to Clough Presbyterian Church.
[By "THE MAN IN THE STREET."]
The Rev. James Rentoul, of Dromore, was a clever member of a clever family, an interesting and popular personality. He was a man of brain and of grit, of independence of judgment and character, of great individuality and some idiosyncracies, with a rich vein of humour which made him as popular on the platform as in the home. While he was an excellent preacher, his qualities as a popular and humorous lecturer rendered him for years a favourite on the platform. His quaint philosophising, his humorous quips and turns, his power of expression, exposition, and illustration, combined with his flow of spirits and his easy and genial manner, maintained for him for years exceptional popularity as a lecturer. But he was more, he was a good preacher and pastor, and was a popular favourite not only in his own district, but wherever he was known. My earliest recollection of him was over half a century ago, when I was present at the visitation of his congregation in Clough. I well remember his somewhat unconventional dress and address, but at the same time there was something about him that suggested individuality and ability of an exceptional character. The youth was father to the man. I met him and heard him often in after life, and always found in him the qualities of geniality and humour, mingled with sarcasm, that gave salt to his conversation. He has died full of years and respect. To his widow and family, and to his other relatives, I extend sincere expressions of sympathy and condolence.
---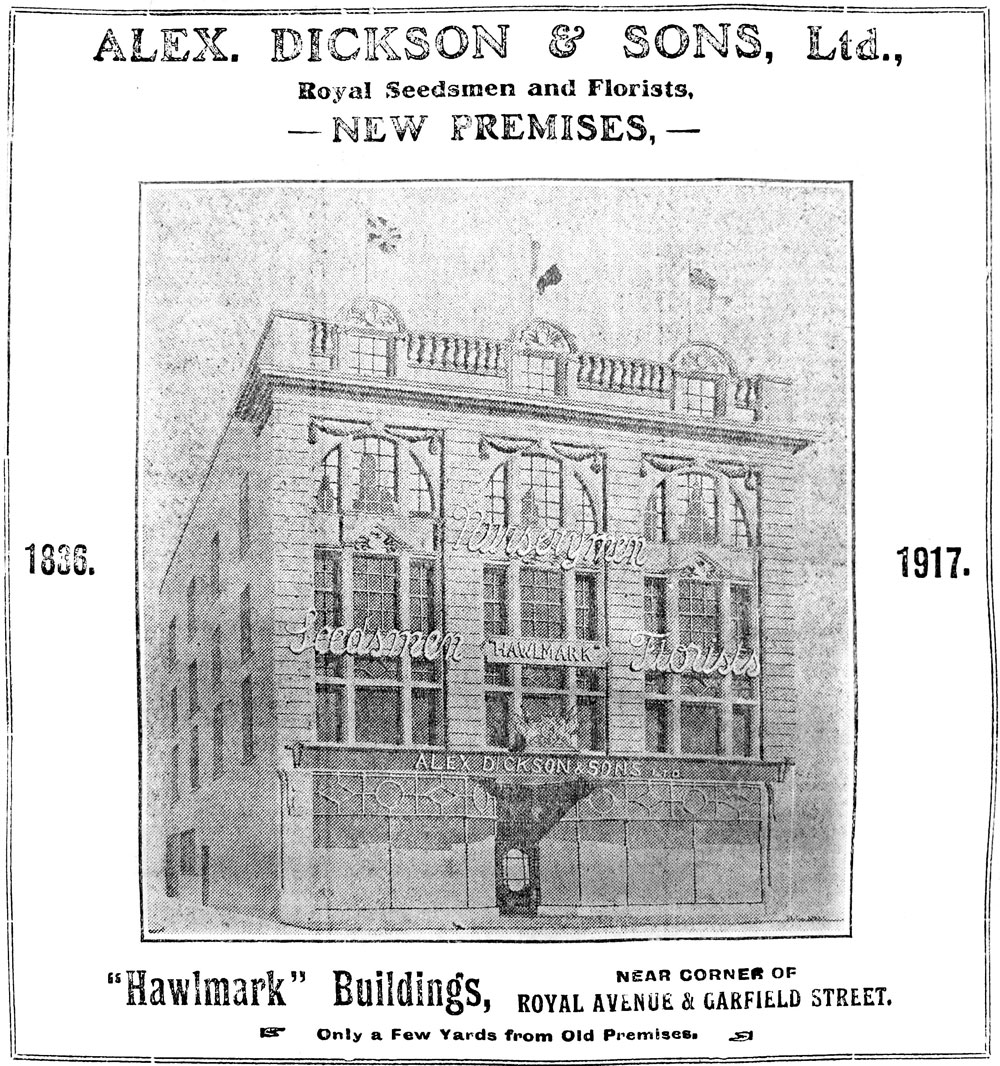 "HAWLMARK" BUILDINGS.
MESSRS. DICKSON'S NEW EXTENSIVE PREMISES.
THE FIRM'S BRILLIANT BUSINESS RECORD.
Recently Messrs. Alexander Dickson & Sons, Ltd., the well-known seedsmen, nurserymen, and florists, have opened the new and extensive premises known as "Hawlmark" Buildings, to which they moved from Royal Avenue, where the central business of the firm was located for many years. The new premises have been built near the corner of Royal Avenue and Garfield Street, and in future the Company's address will be "Hawlmark" Buildings, Belfast. Messrs. Dickson purchased the site some twelve months ago, and the building erected upon it in which their business in all its departments is now in full swing is one of great architectural beauty and handsome proportions. The architect was Mr. Thomas Houston, of Kingscourt, Wellington Place. Mr. S. C. Hunter, of Scottish Provident Buildings, acted as quantity surveyor, while the general contract was given to Mr. F. B. M'Kee, Shore Road, who carried out the work in a most satisfactory manner, notwithstanding the difficulties entailed by the existing conditions. The building is well designed to set off in an attractive maimer the business to be carried on within its walls by the Messrs. Dickson. On either side of the spacious doorway are extensive windows, which just at present are resplendent with those beautiful floral decorations in the arrangement of which the firm has no compeers, while the flowers and plants of which they are composed are recognised in all the great centres of the United Kingdom for their intrinsic quality, grace, and attractiveness. The well-proportioned front, which is earned out in cream tinted cement in Georgian style, is relieved with finely wrought mouldings and carved enrichments. The elegant shop front and entablature, some 52 feet in length, are composed of solid polished mahogany supported by a plinth ana pilasters of terra cotta. In the porch there is a mosaic pavement of coloured marbles, and the ceiling is composed of rich fibrous plaster work. Above the entrance are the different signs in huge gold letters arranged on the front of the building, with the Royal Arms, emblematic of Messrs. Dickson's Royal appointment.
On entering the commodious shop one finds the seed, bulb, and garden sundries' departments arranged on the left, and the floral department on the right, the two sections being divided by a spacious centre floor space, which permits of an uninterrupted passage to the staircase. At the rear of the shop are the general offices and strong-room on the left hand side, and the despatch offices and cold storage for cut flowers on the right. Access to the upper floors of the building, four in number, giving a combined area of over 13,000 square feet, is obtained by an electric hoist. The first floor its arranged for the execution of seed and bulb orders.
Messrs. Dickson are noted growers of all varieties of vegetable seeds, and have been instrumental in introducing to commerce many varieties of great economic value, especially garden peas of great excellence. They are also noted raisers of sweet peas, and have received many awards for these at the leading exhibitions in Great Britain, and are, further, possessors of one of the finest collections of May flowering and Darwin tulips in the kingdom, which at the present time is a very valuable asset in eliminating the necessity for Dutch-produced bulbs. All these special strains of seeds are here carefully stored and despatched from this department. The private offices of the Managing Directors are also constructed convenient to this floor.
The third flat is for the storing of the large stocks of seeds necessary for carrying on the business, while the fourth floor is occupied by the agricultural department.
Some idea of the magnitude of the trade done in this section of the business may be ascertained when it is stated that farm seeds for the sowing of upwards of 100,000 acres are annually distributed to all parts of the United Kingdom. These include the celebrated root seeds of "Abundance " swede, "Erin" swede, also "Abundance" mangel seed, and large quantities of grass and clover seed occupy the remaining store space.
The fifth floor is given to the sundries department, where garden tools, lawn mowers, horticultural manures, &c., in fact all gardening requisites are kept. A room for testing the growth of all seeds sent out from the house has also been constructed on the top floor.
Splendidly equipped in every respect, the building has been constructed with a spacious staircase of the emergency description now required by the municipal authorities. There is easy access to this "fireproof" staircase from every floor in the building.
The extensive business which the firm now control was initiated in the year 1836 by the founder, Alexander Dickson, of Newtownards, and since that date four generations of the Dickson family have become identified with the concern. In the lifetime of the late Mr. George Dickson, V.M.H., the business of the firm became extensively departmentalised, but, while their name is a household word in all the branches for which they cater, it is the growing of roses that the Messrs. Dickson have most distinguished themselves. Their unique position is the outcome of an experience in the front rank, extending over a period represented by the past thirty years. Only last week the analysis of the National Rose Society credited them with the great majority of the best roses for exhibition purposes. In short, the gardens of the world have been beautified with upwards of 200 distinct varieties of roses sent out from Newtownards.
Besides having all the leading noblemen of the British peerage amongst their patrons, Messrs. Dickson have had the privilege and honour of holding Royal appointments to their late Majesties Queen Victoria and King Edward VII. At the present time they have the distinction of being Royal warrant holders to his Majesty King George V., who with Queen Mary, it is interesting to note, visited the nurseries at Newtownards in 1897.
In order to protect their clients' and their own interests they found it advisable to register under the Trades Marks Act a trade name "Hawlmark," which has become synonymous with quality in everything connected with the Horticultural trade.
The establishments of the Company comprise the extensive home nurseries and farms at Newtownards, County Down; Blackrock, County Dublin; and at Ledbury, Herefordshire; while Messrs. Dickson more recently have acquired an extensive seed farm at Marks Tey, in Essex, which, together with their up-to-date Metropolitan Seed Warehouse, 61, Dawson Street, Dublin, and their now new headquarters at Belfast, provide the firm with all facilities for carrying on their great business.
---
WAR HONOURS
Douglas Haig Promoted
AWARDS TO ULSTERMEN.
The "London Gazette" publishes a long list of Naval and Military honours and promotions for services rendered in connection with the war. Some 5,000 officers and men have received honours, and over 9,000 names have been specially mentioned for gallant services and devotion to duty. Chief amongst the Military honours is the promotion of Gen. Sir Douglas Haig to be Field-Marshal. Lieut.-General Sir H. S. Rawlinson becomes General Major-General Sir L. E. Kiggell is promoted to Lieutenant-General, as are also Major-General Home, Major-General Sir H. de la P. Gough, Major-General G. F. Milne, and Major-General the Earl of Cavan. Major-General Smuts becomes honorary Lieutenant-General, and amongst those promoted Major-General is Colonel (temporary Major-General) W. B. Hickie.
The Victoria Cross has been conferred on Captain William A. Bloomfield, South African Mounted Brigade, and Temporary Lieutenant E. P. Bennett, Worcester Regiment.
The following is a list of the principal Ulster recipients:--
Order of the Bath
Major-General O. S. W. Nugent, D.S.O., Co. Cavan, Commanding the Ulster Division.
Major-General H. B. H. Wright, C.M.G., a son of the late Rev. C. H. H. Wright, D.D., a former incumbent of St. Mary's Church, Belfast.
Major-General T. E. Clarke, Royal Inniskilling Fusiliers, a son-in-law of the Right Hon. Sir John Jordan, British Minister at Pekin, and Honorary Burgess of the city of Belfast.
Colonel Thomas Sinclair, M.D., F.R.C.S., Army Medical Service, Professor of Surgery in the Queen's University, Belfast.
Order of St. Michael and St. George
Brigadier-General A. St. Q. Ricardo, D.S.O., of Sion Mills, County Tyrone, late commanding a battalion, Royal Inniskilling Fusiliers; a son-in-law of Mr. Emerson Tennent Herdman, D.L., Sion Mills. He was an enthusiastic officer of the U.V.F. before the war.
Colonel William Henry Savage, Indian Army, of Seaview House, Cushendall, Count Antrim. This officer recently vacated the command of the County Down Battalion Royal Irish Rifles.
Lieut.-Colonel H. A. Pakenham, Royal Irish Rifles, of Langford Lodge, Crumlin, County Antrim; a member of the Ulster Unionist Council.
Lieut.-Colonel H. S. Withers, M.B., Royal Army Medical Corps, a son of the late Mr. Robert Withers, Comber, County Down, and a brother of Mr. Langtree H. Withers, The Square, Comber, secretary of Messrs. Riddels, Ltd., Donegall Place, Belfast.
Distinguished Service Order
Brigadier-General F. B. Crozier, late commanding a battalion Royal Irish Rifles. Before the war he commanded the Special Service Force, West Belfast Regiment, U.V.F.
Lieut.-Colonel S. W. W. Blacker, Royal Irish Fusiliers, of Carrickblacker, Portadown.
Lieut.-Colonel F. O. Bowen, Royal Irish Regiment, in command of a battalion of the Royal Irish Rifles.
Lieut.-Colonel F. L. R. Gordon, Royal Irish Rifles. Prior to the war commanded the Special Service Force, North Belfast Regiment, U.V.F.
Lieut.-Colonel R. C. A. M'Calmont, Irish Guards, M.P. for East Antrim.
Lieut.-Colonel F. S. N. Macrory, Royal Inniskilling Fusiliers, son of the late Mr. Samuel M. Macrory, J.P., Ardmore Lodge, Limavady.
Lieutenant-Colonel R. W. Clements, M.B., R.A.M.C., a son of the Rev. William Clements, minister of Benburb Presbyterian Church, Co. Tyrone.
Major Robert Sinclair Knox, Royal Inniskilling Fusiliers, formerly a prominent member of the North Derry Regiment, U.V.F. In civil life Major Knox was manager of the Coleraine office of Mr. Hugh T. Barrie, D.L., M.P.
Major P. J. Woods, Royal Irish Rifles, son of the late Mr. Hugh Woods, of Belfast, and brother of Mr. R. J. Woods, Princetown Lodge, Bangor, and Belfast. He is a son-in-law of Mr. Stewart Blacker Quin, the Unionist candidate for West Belfast.
Major J. M. H. Conway, F.R.C.S.I., R.A.M.C., a son of the late Rev. T. R. Conway, Drummully Rectory, Clones, a prominent Unionist.
Major W. Brooke Purdon, M.C., M.B., Royal Army Medical Corps, a son of Dr. Richard Purdon, Belfast. He won the Military Cross last year.
Major Laton Frewen, King's Royal Rifle Corps, a son of Lieutenant-Colonel Stephen Frewen, formerly commanding the 16th Lancers, and now serving on the staff, and a brother of Lady Carson.
Captain John Blakiston-Houston, Hussars, a son of Mr. John Blakiston-Houston, D.L., Orangefield.
Capt. Alexander Gallaher, Dragoon Guards, a son of Mr. James Gallaher, Malone Park House, and Waring Street, Belfast, and a nephew of Mr. Thomas Gallaher, J.P., of the firm of Gallaher. Ltd.
Military Cross
ULSTER PRESBYTERIAN CHAPLAIN DECORATED.
Captain Rev. J. Jackson Wright, Army Chaplain Department, minister of Ballyshannon Presbyterian Church, Co. Donegal.
Captain Rev. J. H. M'Kew, Army Chaplain's Department, Episcopal curate at Clones.
Captain Sydney J. Lyle, Royal Irish Rifles, of Derganagh, Ballycastle.
Captain James Sproule Myles, Royal Inniskilling Fusiliers, Milltown House, Ballyshannon.
Captain Joseph Dallas Nicholl, Royal Irish Rifles, son of Mr. Wm. Nicholl, Craignageragh, Cregagh Road, Belfast, and a brother of Mr. John Nicholl, assistant secretary of the Royal Ulster Agricultural Society.
Captain Richard J. Cowser, Army Service Corps, is a son of Mr. John Cowser, City Hall superintendent, Belfast.
Captain E. V. Burke Murphy, Royal Irish Rifles, eldest son of Mr. J. H. Burke Murphy, J.P., Cultra Lodge, Cultra, County Down.
Captain R. R. Maxwell Perceval, Royal Field Artillery, elder son of Major-General E. M. Perceval, C.B., D.S.O., a distinguished County Down officer.
Captain H. F. Sheppard, Royal Irish Rifles, son of Mr. Hudson Sheppard, Clanmore, Bangor.
Captain Wm. M'Elrea Snodgrass, R.A.M.C., son of Mrs. Snodgrass, Firgrove, Strabane.
Lieutenant Wm. Hewitt Stitt, Royal Irish Fusiliers, younger son of Mr. Wm. R. Stitt, 31, Wellington Park, Belfast.
Lieutenant Wilfred R. Malone, Royal Irish Rifles, son of Mr. Alfred Malone, 2, Cliftonville Avenue, Belfast.
Lieutenant Morgan E. J. Moore, Royal Irish Rifles, only son of Dr. E. E. Moore, Resident Medical Superintendent of the County Donegal Lunatic Asylum, Letterkenny.
Lieutenant Robert Watts, Army Service Corps, son of the late Rev. Robert. J. Watts, Kilmacrenan, County Donegal, and a grandson of the late Rev. Robert Watts, D.D., LL.D., Professor of Theology in the Assembly's College, Belfast.
Second-Lieutenant Hugh Young, Royal Inniskilling Fusiliers, son or Rev. W. J. Young, Milford, Co. Donegal.
MENTIONED IN DESPATCHES.
A very large number of Ulster officers have been mentioned in despatches, and included in the list is the name of Major-General Rev. John M. Simms. C.M.G., D.D., principal chaplain (Presbyterian) to the Forces, First-class Honorary Chaplain to the King, son of the late Mr. John Simms, Scrabo Isles, Co. Down.
It is intimated that, additional to the rewards now announced, the following immediate military rewards have been conferred on regimental officers, non-commissioned officers, and men during the period of 1st June, 1916, to 1st December, 1916:--
| | |
| --- | --- |
| D.S.O. | 526 |
| Military Cross | 3,605 |
| Distinguished Conduct Medal | 2,101 |
| Military Medal | 19,791 |
| Meritorious Service Medal | 681 |