Preface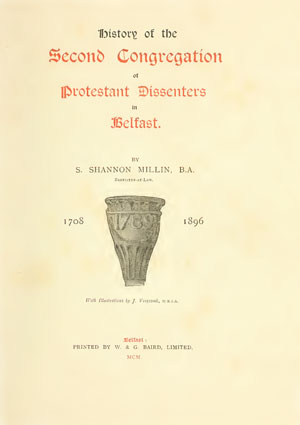 As a life-long member of the Second Congregation of Protestant Dissenters in Belfast, I offer the following pages as a slight tribute of respect to a congregation that has emancipated itself from every vestige of ecclesiastical domination.
My sole object -- that of the historian -- has been to record events, and so far as possible to trace the contributory causes. In doing so, I have carefully refrained from expressing any views on matters of Theology, as I feel that any opinions of mine on matters of speculative belief would be of little interest to others.
The following incident, however, may not be without interest in the history of a liberal Church. In the year 1834 a communicant of May Street Presbyterian Meeting-house heard his minister, Rev. Henry Cooke, preach on "Total Depravity," a more favourite subject among Trinitarians then than now. On returning home he met his little daughter, who, with tottering steps and childish prattle, ran to greet her daddy. Raising the child to his bosom, he remarked to his wife, "I'Il never believe that my child will be responsible for the sins of its father." He immediately resigned his connection with May Street, and joined the Second Congregation, in which several of his descendants, in the third and fourth generations, are now active members. The man's name was John Millin -- my grandfather.
I must express my indebtedness to Mr. John Vinycomb, M.R.I.A . -- for many years a member of the Second Congregation -- who kindly undertook to superintend the illustrations. His well-known artistic abilities eminently fitted him for the task, and I feel sure that his several cleverly executed designs will form by no means the least interesting portion of this book.
Thanks are due to the Committee of the First Presbyterian Congregation for permission to reproduce two engravings of former ministers of the Second Congregation; to Miss M'Ewen for permission to reproduce the portrait of her grandfather; and to Mr. Samuel Bryson, of Holywood, for permission to reproduce the portrait of his great-grandfather.
I take this opportunity of expressing my high appreciation of the "Historic Memorials of the First Presbyterian Congregation, Belfast." Its author, Rev. Alexander Gordon, M.A., has shown a respectful veneration for movements in connection with that Congregation, which has been described as "the parent hive, out of whose overflowing numbers we were first embodied." Although we have recently removed from being their immediate neighbours in Rosemary Street, there is no estrangement in friendly feeling. May a better knowledge of each other's past history serve to bind us closer in the future.
S. S. M.
1st December, 1900.
CONTENTS.
PAGE
CHAP. I. --
THE GROWTH OF RELIGIOUS LIBERTY
9
" II. --
MINISTERIAL SKETCHES
19
" III. --
CONGREGATIONAL MUSIC
(a) THE ORGAN.
(b) THE CHOIR.
83
" IV. --
ALL SOULS' CHURCH
95
APPENDIX A. --
Chronological List of Notable Events Affecting the Congregation
103
" "
List of Ministers
111
" B. --
Address to F. D. Finlay, Esq., on the Passing of the Dissenters' Chapels Bill
112
" C. --
Petition in Favour of Disestablishing the Irish Church
114
" D. --
Petition in Favour of Redressing the Grievances of the Dissenters of England
115
" E. --
Legislation Affecting the Dissenters in Ireland
116
" F. --
Extract from the Proceedings of the Rosemary Street Mutual Improvement Association
118
" G. --
NOTES from Bryson's MS. SERMONS
119
" H. --
"What is Protestant Dissent?"
120
" I. --
Congregational Officers
121
ILLUSTRATIONS.
| | |
| --- | --- |
| Meeting-House, Rosemary Street (Built in 1789) | Frontispiece. |
| Spout Head of same, bearing date | Title Page. |
| Arch of Tower Door in All Souls' Church | 9 |
| Communion Service | 16 |
| Portrait of Rev. James Kirkpatrick, D.D., M.D. | 18 |
| " " Gilbert Kennedy, M.A. | 26 |
| " " James Bryson, M.A. | 32 |
| " " W. H. Drummond, D.D. | 40 |
| " " W. D. H. M'Ewen, M.A. | 46 |
| " " John Porter | 52 |
| " " James C. Street | 64 |
| Meeting-House, Rosemary Street (Interior) | 69 |
| Portrait of Rev. E. I. Fripp, B.A. | 74 |
| " " W. H. Drummond, B.A. | 81 |
| Organ and Choir Loft, Rosemary Street | 83 |
| All Souls' Church, Exterior (East End) | 94 |
| " " " Entrance Porch | 95 |
| " " " Pulpit and Organ Loft | 97 |
| Portrait of John Ritchie | 101 |